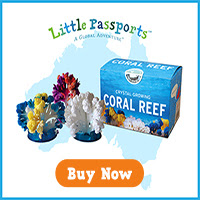 **The links in this post are affiliate links and I will receive a small commission if you make a purchase after clicking on my link.
I am super excited to share this deal. Lil' Man and I are up to tons of sciencw-y fun this summer, and I JUMPED on this cool kit when I saw it!
Are you looking for a fun science project for your kids to do? What about one that can spark conversations regarding different ecosystems around the world? Sound like something for your Little Explorer? Little Passports has you covered!
With simple step-by-step instructions, this easy science activity for kids demonstrates how crystals form and encourages an understanding of underwater ecosystems.
Set up your trays with the paper coral forms, add the terraforming solution, and enjoy your child's amazement as you both watch the transformation!
The Companion Guide features new adventures in Australia with Sam & Sofia as they explore the world's largest coral reef system, the Great Barrier Reef.
The kit includes:
Three coral forms, trays and terraforming solution

Instruction booklet with easy to follow step-by-step instructions

Companion Guide, featuring more Australia adventures with Sam and Sofia

The Coral Reef Kit is recommended for ages 6+

This fun science project is only $12.95 + shipping! Click here to purchase your very own Little Passports Coral Reef Kit .