** This post also contains affiliate links and I will be compensated if you make a purchase after clicking on my links.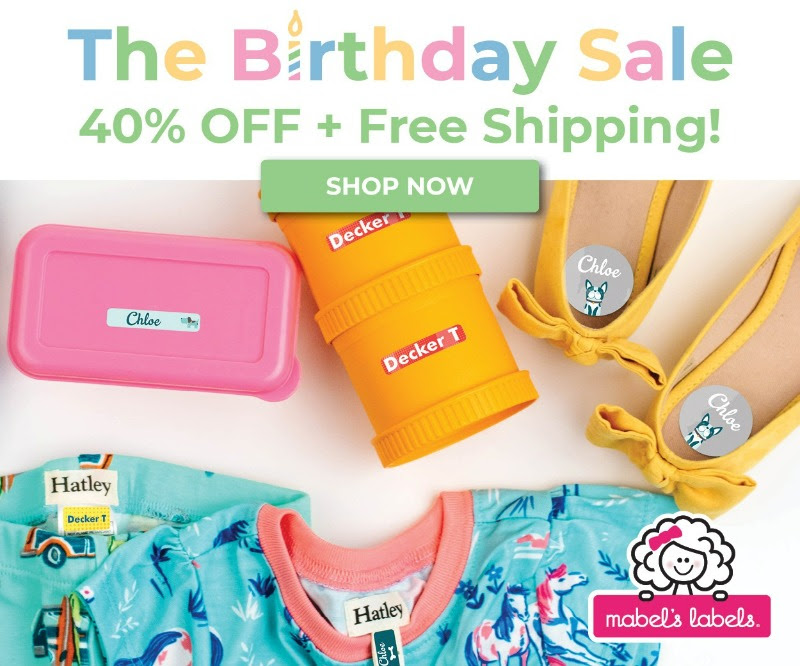 Mabel's Labels is celebrating its birthday and they want you to join the party with a huge month-long sale! Each week they will be discounting a new best-selling product at a whopping 40% OFF!
Once a product is added to the sale, it will remain on sale until the end of the month.
This annual sale is one of their best and features BIG savings on our most popular kids' name labels and tags.
NEW PRODUCTS ADDED EACH WEEK!
March 1st – March 7th Offer: 40% off Tag Mates™
March 8th – March 14th Offer: 40% off Stylish School Label Pack
Tag Mates™ are laundry-safe, peel-and-stick clothing labels that require no ironing or sewing. These discreet laundry labels are an easy way to keep your family's clothing organized and from being misplaced at daycare, camp and school. Simply apply the durable custom clothing labels to care tags on everything from clothes to soft toys, blankets and towels.
Small option includes 70 labels.
Large option includes 72 labels.
The Stylish School Label Pack is the most stylish way to stay organized this school year. These beautiful labels are guaranteed to stay put even through the laundry and through the dishwasher. All you need to do is peel and stick the waterproof labels to everything and sit back and watch all your stuff return home.
Available in 19 gorgeous design sets.
Don't forget to check this link for new sale products throughout the month.